So very few words or phrases get me excited than the word 'buffet' or the much more trashy 'All you can eat'. When my mum and I went to Paris she wanted clarification on what 'All you can eat' breakfast buffet meant exactly the hotelier responded with a confused and very Gaul "All. You. Can. Eat?" I suppose buffet sounds classier than a suggestion you eat until cannot eat no much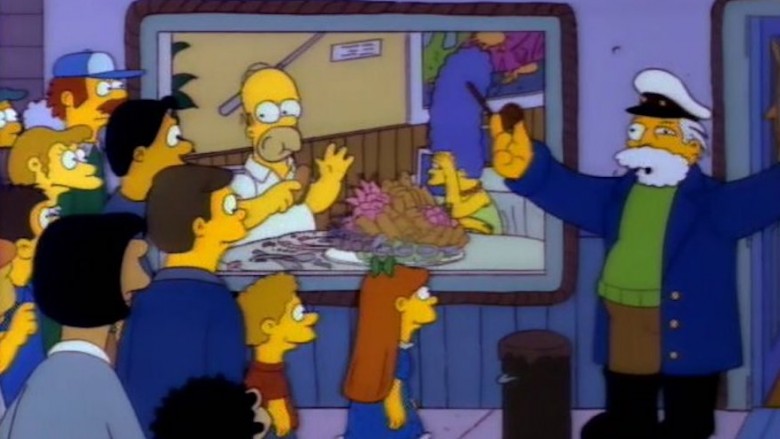 Buffets bring about images of a small amount of choice that fits well together, like at a wedding or a restaurant that has a limited cuisine. All You Can Eat brings to mine Homer Simpson, a man who was never satisfied with what the Frying Dutchman could offer in it's all you can eat range.
Homer in his quest to be full resorts to some pretty drastic action, including bringing Marge, who has a fish allergy along with him.
which results in a court case and Marge's emotional testimony
I am obviously a Homer in this situation, I am in most scenarios involving food but All You Can Eat is never the unlimited food extravaganza you hope for. If you don't fill up on fizzy drinks then you fill up on carbs and yes, there will be a blog about perfect buffet etiquette (send me your tips) and after the second plate you are full, except they have pudding options and you've already paid in advance.
Echoing The Simpsons' Season 4 episode Bill Wisth threatened to picket Chuck's Place when his amount of All You Can Eat fish wasn't sufficient enough. Wisth refused to pay, the owners claimed he had violated the terms and conditions. Does that sound like a man who had all he could eat?
Buffet life is tough and often unsatisfying but the frugal bitch (another blog for another day) means that buffets whatever happens on the night feel like value for money; did get at least three plates, did I try something I will never ever try again or have fallen in love with? Absolutely. A buffet, whatever your appetite, is always worth the money.